Radio Free never takes money from corporate interests, which ensures our publications are in the interest of people, not profits. Radio Free provides free and open-source tools and resources for anyone to use to help better inform their communities. Learn more and get involved at radiofree.org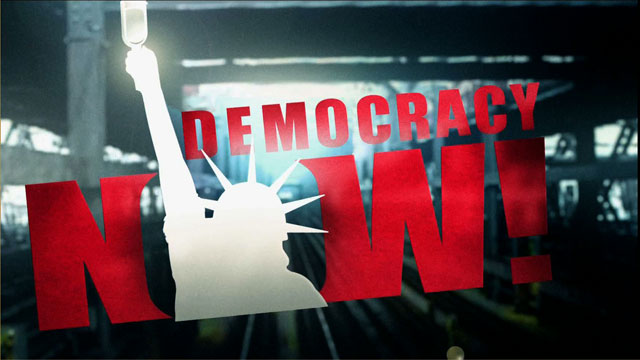 Voters are headed to the polls and caucus sites today in six states: Michigan, Mississippi, Missouri, Idaho, North Dakota and Washington. Voting also ends today in the Democrats Abroad primary. A total of 352 delegates are up for grabs, with the biggest prize being Michigan, which will award 125 delegates.
Bernie Sanders beat out Hillary Clinton in Michigan in 2016. Michigan Governor Gretchen Whitmer has backed Joe Biden, while Sanders has been campaigning in the state with Reverend Jesse Jackson following his recent endorsement. Bernie Sanders has called out Joe Biden's record on trade and his support for deals like NAFTA, which he says have cost Americans millions of well-paid jobs and hurt unions. This is Sanders speaking at a Detroit rally Friday.
Sen. Bernie Sanders: "If we are going to defeat Trump in Michigan, in Pennsylvania and Wisconsin, it will be very hard for a candidate who voted for these disastrous trade agreements."
The primaries have narrowed down to a race between Senator Bernie Sanders and Joe Biden after Senator Elizabeth Warren and billionaire Mike Bloomberg dropped out last week after disappointing Super Tuesday results. Hawaii Congressmember Tulsi Gabbard also remains on the ballot, though she has been locked out of next week's debate following a DNC rule change on the delegate count needed to qualify.
Bloomberg has since endorsed Joe Biden, joining other former presidential candidates Pete Buttigieg and Senators Amy Klobuchar, Cory Booker and Kamala Harris. Senator Warren has yet to back either candidate. The Working Families Party Monday endorsed Bernie Sanders. The group, which initially endorsed Elizabeth Warren before she dropped out, wrote, "Bernie Sanders has been a lifelong champion for working people. He wants to make healthcare, housing, childcare, and education basic rights, reform our criminal justice system, protect and expand Social Security, and take bold action on climate." The progressive group backed his candidacy in 2016.
Meanwhile, "Axios on HBO" is reporting Joe Biden's inner circle has been discussing possible Cabinet appointments if he wins the presidency. Contenders reportedly include Jamie Dimon, CEO of JPMorgan Chase, and Anne Finucane of Bank of America for Treasury secretary; Mike Bloomberg for World Bank president; and Susan Rice — Obama's national security adviser — or John Kerry as secretary of state. Pete Buttigieg may be considered as ambassador to the U.N. after he quickly moved to endorse Biden after suspending his own presidential campaign. The plan is being described as "Return to Normal," as a counter to the tumultuous Trump administration.
In more primary news, Dallas County is requesting a recount of last week's Super Tuesday votes after officials discovered a discrepancy between the number of voters who signed in and number of ballots cast.