Radio Free never takes money from corporate interests, which ensures our publications are in the interest of people, not profits. Radio Free provides free and open-source tools and resources for anyone to use to help better inform their communities. Learn more and get involved at radiofree.org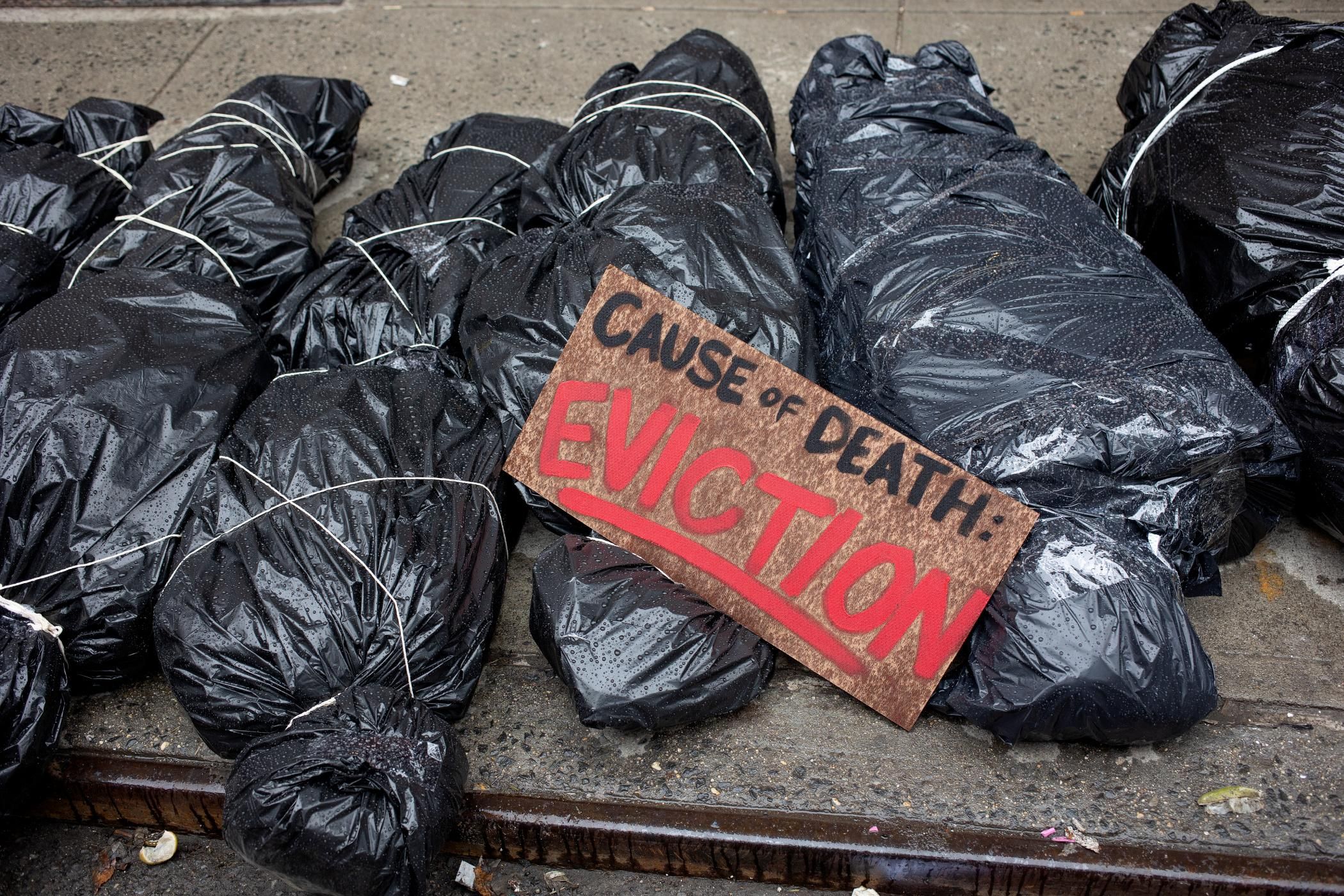 In response to a legal challenge from a group of landlords and real estate companies, attorneys generals in nearly two dozen states are urging the U.S. Supreme Court to uphold the Centers for Disease Control and Prevention's life-saving moratorium on residential evictions for nonpayment of rent during the Covid-19 pandemic.
"An unprecedented wave of mass evictions—amid the embryonic stages of the post-pandemic recovery—would be catastrophic."
—Attorneys Generals' brief
The national eviction moratorium, first implemented last September, is set to expire on June 30. CDC Director Rochelle Walensky said that discussions are ongoing as to whether the agency will extend its partial ban on evictions.
Earlier this month, property owners led by the Alabama Association of Realtors asked the Supreme Court to vacate the CDC's eviction ban.
"The landlord groups said U.S. District Judge Dabney Friedrich's May 5 decision nullifying the moratorium should take effect immediately," Reuters reported Friday. "Despite ruling in favor of the landlords, Friedrich agreed to place her decision on hold to allow President Joe Biden's administration to appeal."
According to the news outlet, the landlords pushing for an end to the moratorium argued that the CDC overreached its authority in imposing the restrictions on evictions—a move the agency made to curb the spread of Covid-19, which has caused almost 600,000 deaths in the U.S. so far.
Meanwhile, research has shown that measures to reduce displacement amid the coronavirus crisis prevented thousands of additional deaths, suggesting that the federal eviction ban has been an effective intervention to safeguard public health—wholly consistent with the agency's mission.
In their amicus brief (pdf) to the Supreme Court, the AGs—from California, Colorado, Connecticut, Delaware, Hawaii, Illinois, Maine, Maryland, Massachusetts, Michigan, Minnesota, Nevada, New Jersey, New Mexico, New York, North Carolina, Oregon, Pennsylvania, Rhode Island, Virginia, Washington, Wisconsin, and D.C.—explained their opposition to the landlords' request for an invalidation of the CDC's tenant protections.
Ending the nationwide eviction moratorium "could force millions of vulnerable individuals from their homes into the streets, crowded shelters, or into contact with family and friends within or across state lines," they wrote in the court filing.
While "the nation has made fragile progress toward containing the coronavirus through social distancing policies and vaccination," the AGs noted, just over half of the population has been inoculated. Moreover, a new analysis from Princeton University's Eviction Lab shows that vaccination rates are lower in zip codes with higher rates of eviction filings.
The pandemic continues to kill nearly 350 people in the U.S. every day, on average, and economic hardship is also far from over, especially with GOP-led states slashing unemployment benefits prematurely.
"Mass evictions are damaging and destabilizing events in the best of times," the AGs added. "An unprecedented wave of mass evictions—amid the embryonic stages of the post-pandemic recovery—would be catastrophic."
According to the latest analysis of the Census Bureau's Household Pulse Survey by the Center on Budget and Policy Priorities (CBPP), 10.4 million U.S. adults, or 14% of the nation's renters, are still behind on rent, with renters of color and renters with children affected disproportionately.
Although the CDC's ban prohibited landlords from evicting tenants who satisfied certain requirements, it did nothing to prevent missed payments from piling up amid a devastating economic crisis; across the country, renters are still on the hook for billions of dollars in back rent.
Through two coronavirus relief packages (pdf) passed in December and March, Congress appropriated $46.5 billion in emergency rental assistance (ERA), an unprecedented amount of financial support for tenants, especially when compared with the $1.5 billion allocated to renters during the Great Recession.
That funding provided by the Treasury Department would help tenants pay off the housing debt they have accrued over the past 15 months, but dozens of state and local governments are distributing ERA at such a glacial pace that most people in need won't receive aid before June 30.
"We need to let this moratorium stay in place until we spend all this money."
—Mark Melton, housing attorney
On top of the fact that some ERA programs weren't launched until a few weeks ago, part of the problem, as The Intercept reported last week, is that many cities and states have established difficult application processes that require a substantial amount of "onerous documentation."
According to the National Low-Income Housing Coalition (NLIHC), less than half of the nation's ERA programs—192 of 404—allow tenants to self-attest that they qualify for assistance.
"Requiring tenants to provide proof that they qualify—that they have experienced coronavirus-related hardship, that their income is low enough, and that they are at risk of housing instability—is slowing everything down," The Intercept noted.
Diane Yentel, president of the NLIHC, highlighted just how little states have provided to tenants with less than three weeks to go before the national eviction moratorium is set to expire.
"Texas has likely done the best with its money so far—and they've only spent 25%," Yentel tweeted. "Many states have spent less than 3-5%: Arizona, Connecticut, Colorado, Kansas, Missouri, Nebraska, California, and more. Wyoming has spent less than 0.1%!"
While some in the real estate industry have urged Biden to maintain the June 30 expiration date because, they argue, that will incentivize states to expedite the distribution of ERA, Emily Benfer, a lawyer and advocate for housing and health justice, emphasized that "lifting the ban doesn't change how fast rental assistance applications are processed or checks delivered to landlords."
"It only speeds up eviction," she added.
The current expiration date on the federal eviction ban couldn't be worse timing, housing advocates say.
"We're just getting to a point where jurisdictions are getting the money out the door to tenants and landlords," Ann Oliva, a senior fellow at CBPP, told CNBC last week.
Yentel characterized the situation this way: "It is a race against the clock at this point to get the money to the tenants who need it to avoid eviction."
In addition to the 23 AGs, an attorney for the Department of Health and Human Services also asked (pdf) the Supreme Court last week to keep the federal eviction moratorium intact. But even if the high court denies the landlords' appeal for an immediate dissolution, the ban will still expire at month's end if the Biden administration fails to act.
"Every day I'm increasingly worried that any day now will mark the start of eviction summer—when the avalanche will crash and set millions of families further down the path of despair, poor health, economic, and housing instability," Benfer said last week. "There's no recovery, no opportunity, no hope there."
Mark Melton, a lawyer who represents tenants in Dallas, told CNBC in May: "We need to let this moratorium stay in place until we spend all this money. If you bail out the renter, that means you bailed out the landlord."

This content originally appeared on Common Dreams - Breaking News & Views for the Progressive Community and was authored by Kenny Stancil, staff writer.