Radio Free never takes money from corporate interests, which ensures our publications are in the interest of people, not profits. Radio Free provides free and open-source tools and resources for anyone to use to help better inform their communities. Learn more and get involved at radiofree.org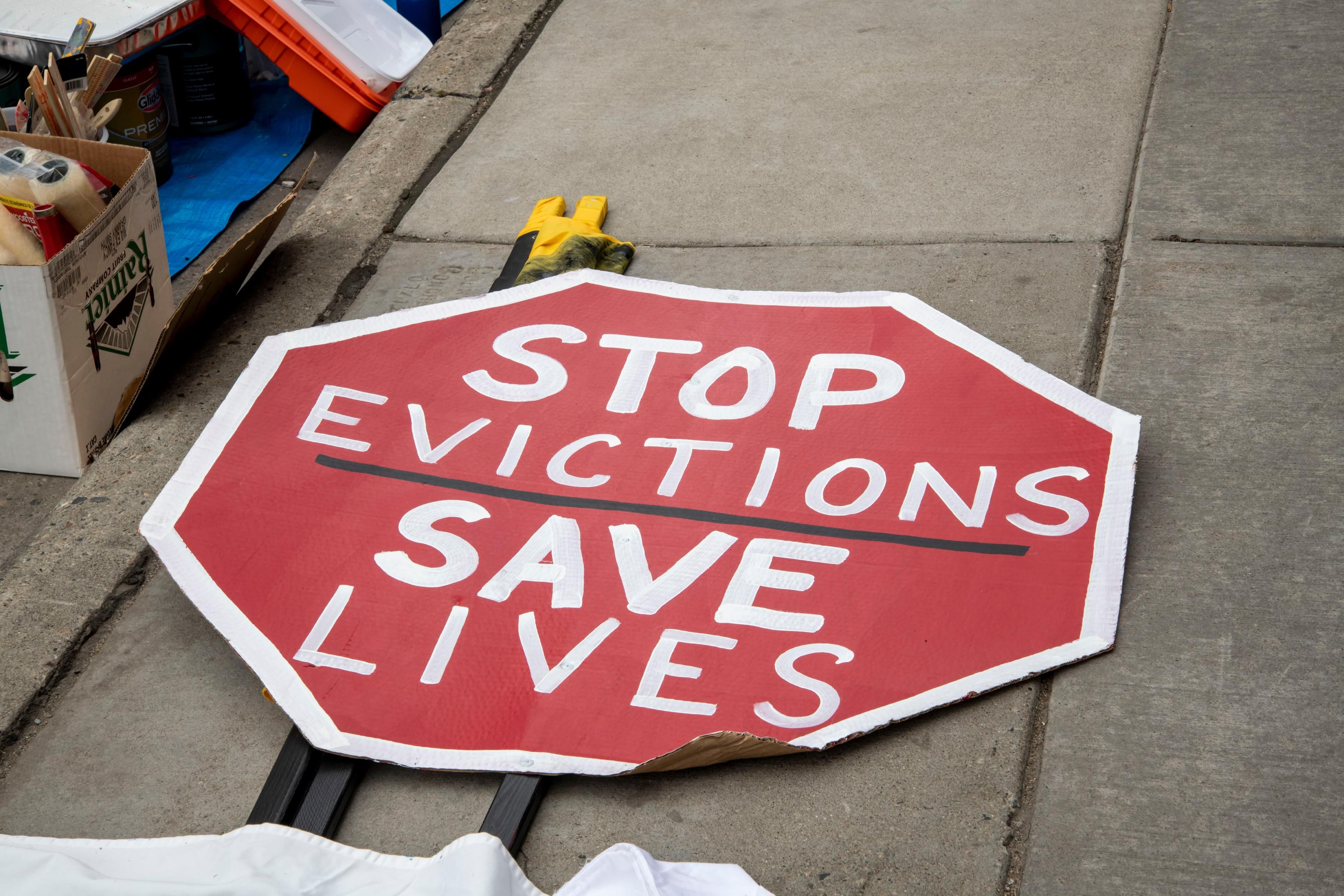 The Biden White House announced Thursday that it will not extend an eviction moratorium that's set to expire in just three days, claiming a recent Supreme Court ruling rendered the administration powerless to act on its own.
"While estimating the scale of the problem is nearly impossible, increased eviction rates and unnecessary Covid-19 infection and death are almost guaranteed."
—Emily Benfer and Peter Hepburn
In a statement, White House Press Secretary Jen Psaki said that Congress must act "without delay" to "extend the eviction moratorium to protect such vulnerable renters and their families."
But there is virtually no chance that Congress will be able to approve legislation to prolong the nationwide moratorium before the Saturday deadline, guaranteeing at least a temporary lapse—which housing advocates warn could be disastrous, given that millions of tenants across the U.S. are currently behind on rent.
A wave of evictions would be all the more devastating amid the ongoing surge of coronavirus cases, a spike fueled by the ultra-contagious Delta variant. Research published earlier this week found that coronavirus cases and deaths "increased dramatically after states lifted eviction moratoriums" last year.
"If the federal government won't/can't act, states and cities must," Diane Yentel, president and CEO of the National Low Income Housing Coalition, said in response to Psaki's statement. "Governors and mayors should immediately implement/extend eviction moratoriums and get the [Emergency Rental Assistance] out NOW."
The Biden administration faced immediate criticism for waiting until just 72 hours before the expiration of the moratorium to announce that it won't take unilateral steps to keep it in place.
The Supreme Court ruling that Psaki cited to justify the administration's refusal to extend the moratorium on its own was handed down on June 29, meaning the White House had weeks to plan its next steps and pressure Congress to take action.
"The White House waited a month (and until the day the House is leaving for a six-week recess) to say, 'Yeah, Congress really should do something about that,'" tweeted The American Prospect's David Dayen.
Stemming from a lawsuit filed by a group of landlords, the high court's 5-4 ruling last month left in place the Centers for Disease Control and Prevention's eviction moratorium, which was first implemented last September during the Trump administration.
But conservative Justice Brett Kavanaugh, who cast the decisive vote, indicated that he would vote differently in a potential future case, writing in a concurring opinion that the CDC "exceeded its existing statutory authority by issuing a nationwide eviction moratorium."
"Clear and specific congressional authorization (via new legislation) would be necessary for the CDC to extend the moratorium past July 31," Kavanaugh added.
In her statement Thursday, Psaki insisted that President Joe Biden "would have strongly supported a decision by the CDC to further extend this eviction moratorium to protect renters at this moment of heightened vulnerability."
"Unfortunately," Psaki said, "the Supreme Court has made clear that this option is no longer available."
Julián Castro, former secretary of the Housing and Urban Development Department, said Thursday that while he agrees with the White House's demand for congressional action to prevent a looming wave of evictions, "these calls should have come weeks ago, not 72 hours before the moratorium expires."
Castro went on to suggest that the Biden administration should attempt to extend the eviction moratorium even if it believes the Supreme Court will strike it down at a later date.
"SCOTUS may strike down a CDC extension," Castro said, "but it's worth the risk to give tenants time to secure assistance without being kicked out into the street."
In an op-ed for The Guardian Thursday morning, Emily Benfer of Wake Forest University and Peter Hepburn of Rutgers University warned that "if historic patterns are any indication, the United States could experience a steep increase in eviction filings when the moratorium expires." Some states will still have temporary eviction bans in place beyond July 31.
"Data from the Census Pulse survey indicate that more than 10 million tenants are behind on rent, and only a small fraction of the emergency rental assistance allocated by Congress has made it to tenants and landlords," the pair noted. "Even where the aid reaches high-risk communities, it's no guarantee that eviction will be avoided. Few programs restrict landlords from filing eviction cases against aid recipients, and even fewer have meaningful enforcement mechanisms."
"While estimating the scale of the problem is nearly impossible," Benfer and Hepburn added, "increased eviction rates and unnecessary Covid-19 infection and death are almost guaranteed."

This content originally appeared on Common Dreams - Breaking News & Views for the Progressive Community and was authored by Jake Johnson.