Radio Free never takes money from corporate interests, which ensures our publications are in the interest of people, not profits. Radio Free provides free and open-source tools and resources for anyone to use to help better inform their communities. Learn more and get involved at radiofree.org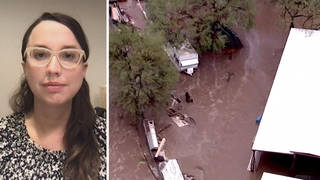 Senate Democrats have announced that they have joined with 17 Republicans to vote in favor of taking up a $1.2 trillion infrastructure deal. The plan includes new spending on climate and environment measures, but critics say it falls far short of what is needed. Democrats say they hope to include additional climate measures in a $3.5 trillion reconciliation package that could advance without being blocked by a Republican filibuster if it is backed by all 50 Democrats. Climate and energy policy researcher Leah Stokes says the bipartisan bill does include positive measures but nowhere near enough. "There are some good investments and important things, but they are in many cases cents on the dollar," she says.

This content originally appeared on Democracy Now! and was authored by Democracy Now!.