Radio Free never takes money from corporate interests, which ensures our publications are in the interest of people, not profits. Radio Free provides free and open-source tools and resources for anyone to use to help better inform their communities. Learn more and get involved at radiofree.org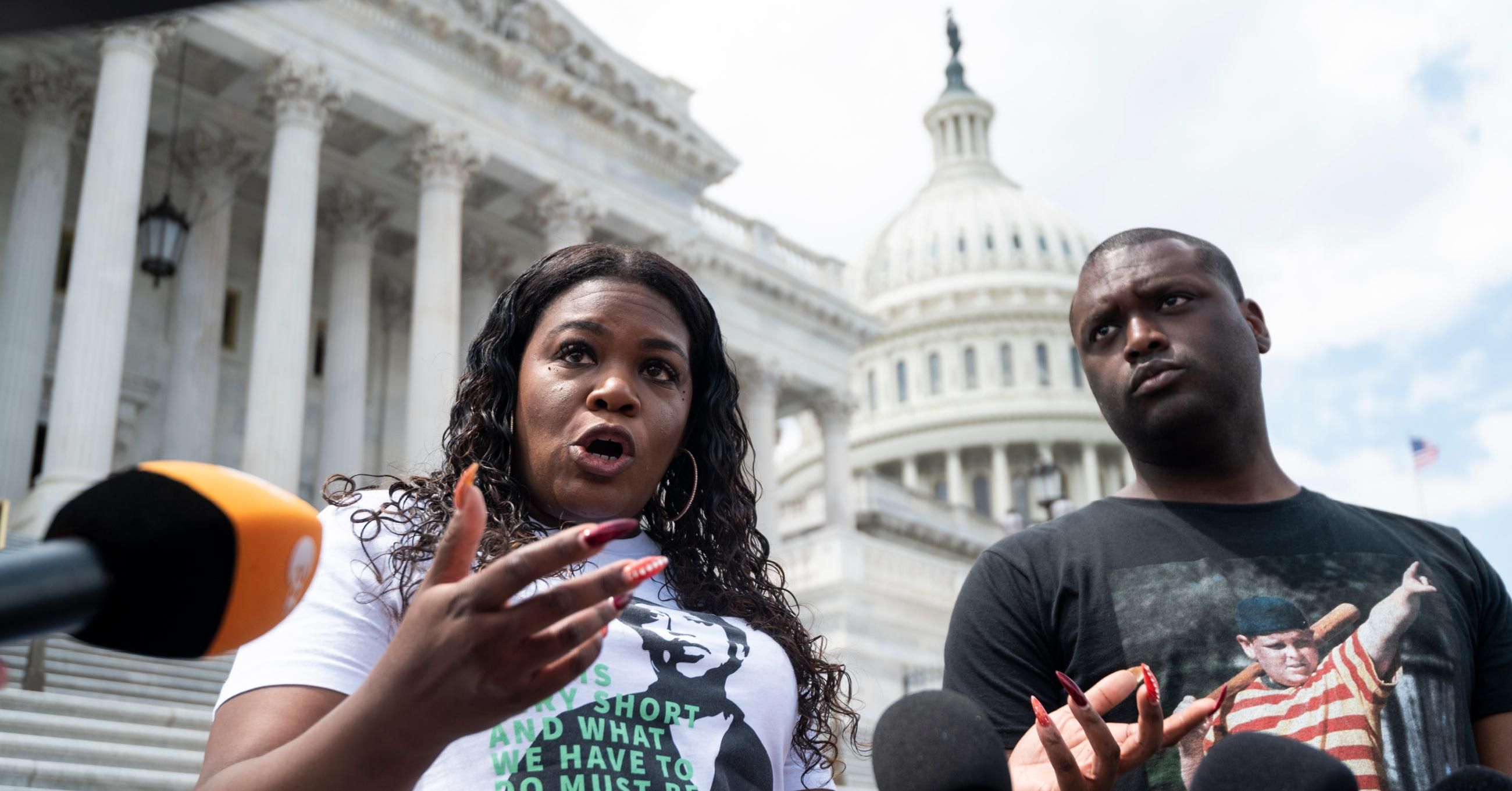 As congressional leaders and the White House continued to point fingers on Monday while coronavirus cases kept rising largely due to the highly contagious Delta variant, the youth-led Sunrise Movement and other progressives demanded that Democratic leadership act to extend the recently expired federal moratorium on evictions by any means necessary.
"Joe Biden, Nancy Pelosi, Chuck Schumer: Stop playing the blame game and show us who you stand for."
—Lauren Maunus, Sunrise Movement
Sunrise's call came after progressive lawmakers and campaigners slept on the steps of the U.S. Capitol throughout the weekend and the Biden administration and House Speaker Nancy Pelosi (D-Calif.) put out new statements Monday on the eviction moratorium's expiration.
"Last week Congress did the unthinkable: Instead of fighting to extend the eviction moratorium and prevent millions of people from being forcibly removed from their homes during the Covid-19 pandemic and climate crisis, they went on vacation. This policy failure was preventable," said Sunrise Movement advocacy director Lauren Maunus in a statement.
After President Joe Biden refused to extend the Centers for Disease Control and Prevention's (CDC) eviction moratorium, citing a controversial argument stemming from a U.S. Supreme Court decision, the House of Representatives failed to pass legislation that would have extended it through the end of the year. House Democrats tried to approve the measure by unanimous consent—meaning it could be blocked by just one dissenting Republican—then left town rather than holding a full vote.
In her statement, Maunus called out Pelosi, Biden, and Senate Majority Leader Chuck Schumer (D-N.Y.), whose evenly divided chamber is set to leave for recess this coming weekend.
"Who are the adults in the room?" Maunus asked. "Joe Biden, Nancy Pelosi, Chuck Schumer: Stop playing the blame game and show us who you stand for. Do whatever it takes to extend the eviction moratorium and end this eviction emergency."
According to Sunrise, multiple movement members have joined Rep. Cori Bush (D-Mo.) on the steps of the Capitol the past few days. The congresswoman, who was previously homeless, has introduced a resolution to establish an "Unhoused Bill of Rights" and spent her weekend outside the halls of Congress calling for House members to immediately return.
"We at Sunrise are committed to fighting alongside Rep. Cori Bush and activists who are fighting on the ground, and on the steps of Capitol Hill, to extend the eviction moratorium and end the trauma caused by this policy failure," said Maunus. "Democrats have control of the Senate, House, and White House—it is their duty to act immediately. Lives are at stake right now, and they must end this eviction crisis. Eleven million lives are on the line."
In a series of tweets on Monday, Bush noted that Schumer came to the Capitol steps—she thanked him "for showing up to express support for our movement"—and shared that she had met with Vice President Kamala Harris.
Appearing on NPR Monday, Bush emphasized that "we are asking the White House to move with this. We are asking the White House to go ahead and set a new moratorium and let us get that action rolling while Congress reconvenes."
"Let's have Congress come back and reconvene. Let's get these votes. Just get the 218 votes," she said. "And while we're working on that, we will at least have the moratorium in place. If there is a challenge to the White House, you know, that will take a little bit of time. And that will give us time to be able to make sure that we don't have hundreds of thousands of people a day being evicted."
In a joint statement Sunday, Pelosi and other Democratic leaders in the House acknowledged that Biden had asked Congress last week to extend the moratorium, but said that "sadly, it is clear that the Senate is not able to do so, and any legislation in the House, therefore, will not be sufficient to extend the moratorium."
"Action is needed, and it must come from the administration. That is why House leadership is calling on the administration to immediately extend the moratorium," the statement added, framing the extension as "a moral imperative to keep people from being put out on the street which also contributes to the public health emergency."
In a lengthy statement Monday, White House Press Secretary doubled down on the administration's position that although "the president would have strongly supported a decision" by the CDC to extend the eviction moratorium, a June Supreme Court ruling meant that the agency "could not grant such an extension without 'clear and specific congressional authorization (via new legislation).'"
The statement also detailed new actions Biden is taking, including "directing his White House policy, implementation, and legal teams to assemble all federal agencies to reexamine whether there are any other authorities to take additional actions to stop evictions."
Along with calling on states and localities to extend or enact eviction moratoria for at least the next two months, the president issued related directives or challenges to state and local courts, his Cabinet departments, landlords, utilities providers, and the Treasury Department.
Pelosi, in response, said that "the administration's statement that they will be taking action to find legal authority by the CDC or other authorities to extend the moratorium is welcome. For the good of families on the verge of eviction, my Democratic House colleagues and I are hopeful that this initiative to extend the moratorium will be successful as soon as possible."
"In addition, I am pleased that the president is urging the states and municipalities to distribute the $46.5 billion that Congress allocated in the December Omnibus and American Rescue Plan," the speaker added. "House members are hard at work in their districts to ensure that these funds are immediately disbursed to the landlords and the families to avoid eviction."
Meanwhile, critics charge that House Democrats aren't doing nearly enough.
During a weekend appearance on CNN, Rep. Alexandria Ocasio-Cortez (D-N.Y.) said that "the House and House leadership had the opportunity to vote to extend the moratorium. And there was frankly a handful of conservative Democrats in the House that threatened to get on planes rather than hold this vote, and we have to really just call a spade a spade."
Writing for Slate Monday, Mark Joseph Stern was critical of Democrats for another reason—that they "appear incapable of explaining how the Supreme Court stymies their own agenda."
Justice Brett Kavanaugh cast the deciding vote in the 5-4 decision cited by the White House, writing that he believed the CDC had "exceeded its existing statutory authority," but rather than invalidating the eviction moratorium, he would allow it to remain in effect for a few weeks, and action by Congress "would be necessary for the CDC to extend the moratorium past July 31."
Stern explained why "Kavanaugh's analysis is dubious at best," then added: "Admittedly, it is difficult to convey this legal conflict to the public. But for the most part, Democrats didn't even try."
"So here we are again, watching politicians fight over an obstacle of the Supreme Court's creation while largely pretending that it materialized out of thin air," he concluded. "The lines of accountability are hopelessly muddled, while the real culprits—Kavanaugh and his four colleagues—are spared from any consequence. If Democrats do not confront the courts, they will come to share the blame for the judiciary's destruction of their own policies."

This content originally appeared on Common Dreams - Breaking News & Views for the Progressive Community and was authored by Jessica Corbett.