Radio Free never takes money from corporate interests, which ensures our publications are in the interest of people, not profits. Radio Free provides free and open-source tools and resources for anyone to use to help better inform their communities. Learn more and get involved at radiofree.org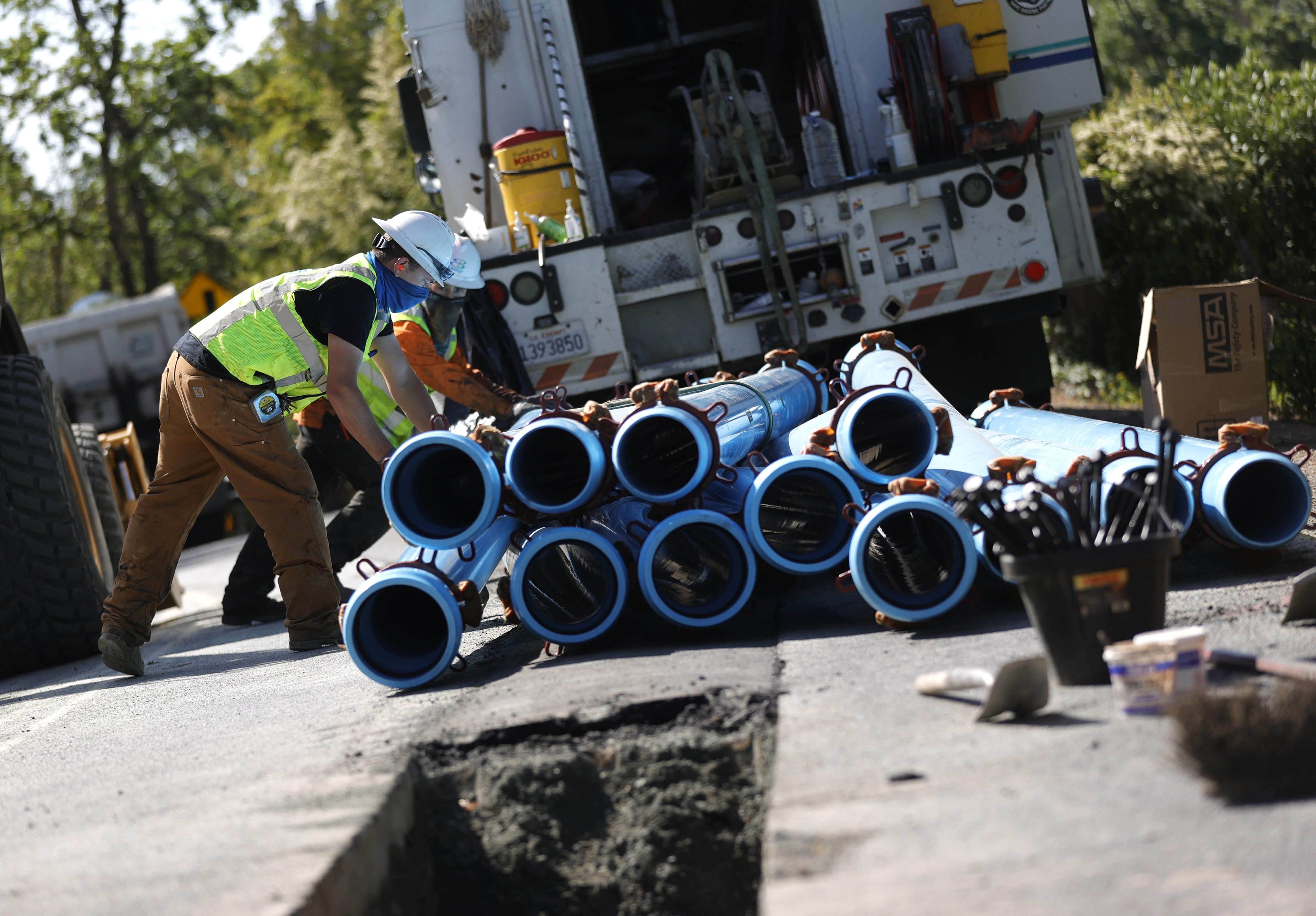 The details of a bipartisan infrastructure compromise have finally emerged, as Senate leaders like Chuck Schumer push for a vote on the bill that many Democrats see as a down payment on the kind of major spending and jobs package the country needs. As policy wonks and Senate staffers pore over details, it does not appear that much has changed from what we knew days before. But it's still important to understand where we started, and where we ended up.
The White House opened with a $2.6 trillion plan, including $111 billion for water with $45 billion for removing lead pipes; but then President Biden started a different track, carrying on negotiations with a group of what was originally a gang of ten senators from both parties. What emerged from that process was this substantially smaller bipartisan infrastructure framework (nicknamed the 'BIF'), tailored to please conservative Democrats like Kyrsten Sinema and Joe Manchin and a handful of Republican senators.
It's undeniably good news that a coordinated Wall Street takeover of our water infrastructure—disguised as a way to save money—is gone. But what is left is an inadequate package.
After a weekend of work, legislative language was released on August 1, and a key victory is something that is no longer part of the deal: water privatization. Out of deference to so-called "deficit hawks," the initial framework proposed an array of privatization schemes instead of simply funding public works directly. In the original mid-June framework, the top two pay-fors were an "infrastructure financing authority to leverage private capital" and "public private partnerships, private activity bonds, and asset recycling." These are different flavors of privatization: Public-private partnerships are contracts that give control of government-owned infrastructure to private companies, private activity bonds give tax subsidies for privatized projects, and asset recycling is a particularly pernicious concept that involves selling off an existing asset to finance a new project.
These provisions outraged progressive organizations, who raised serious concerns about how corporate privatization scams that would enrich Wall Street while driving up rates and undermining service. It's undeniably good news that a coordinated Wall Street takeover of our water infrastructure—disguised as a way to save money—is gone. But what is left is an inadequate package. Lead line removal, which was considered a top priority for this White House, went from $45 billion to just $15 billion, with only 49% of that as grants ( the rest are loans)—even though the total cost of lead line replacement is estimated to be in the neighborhood of $60 billion. The Biden administration is touting this as a solution for the lead-in-water crisis, but it is only 49% of a quarter solution.
The BIF includes the Drinking Water and Wastewater Infrastructure Act, which passed the Senate in May, to reauthorize key EPA water programs, and the package directly appropriates, or spends, about $62.5 billion on EPA water programs over 5 years, including $2.765 billion a year for the regular amount of money to the State Revolving Funds, $23.4 billion total in new money to the State Revolving Funds, $15 billion for lead service line replacement and $10 billion to address PFAS contamination. Outside of EPA, there is another $3.5 billion to the Indian Health Services for sanitation projects. In total, according to EPA needs surveys, our water and wastewater systems need more than $35 billion each year to comply with existing federal standards. The BIF provides only about one-third of what we need.
While the legislative process takes a series of often disappointing twists and turns, we have known all along what the most sensible infrastructure solution would be: provide robust public funding for publicly-owned projects. This approach discourages corporate price-gouging, protects public control over precious assets, and saves everyone money. The WATER Act (HR1352, S916) is the comprehensive, fully-funded solution, providing $35 billion a year to the State Revolving Funds and other programs at the level that is needed to do the job.

This content originally appeared on Common Dreams - Breaking News & Views for the Progressive Community and was authored by Mary Grant.