Radio Free never takes money from corporate interests, which ensures our publications are in the interest of people, not profits. Radio Free provides free and open-source tools and resources for anyone to use to help better inform their communities. Learn more and get involved at radiofree.org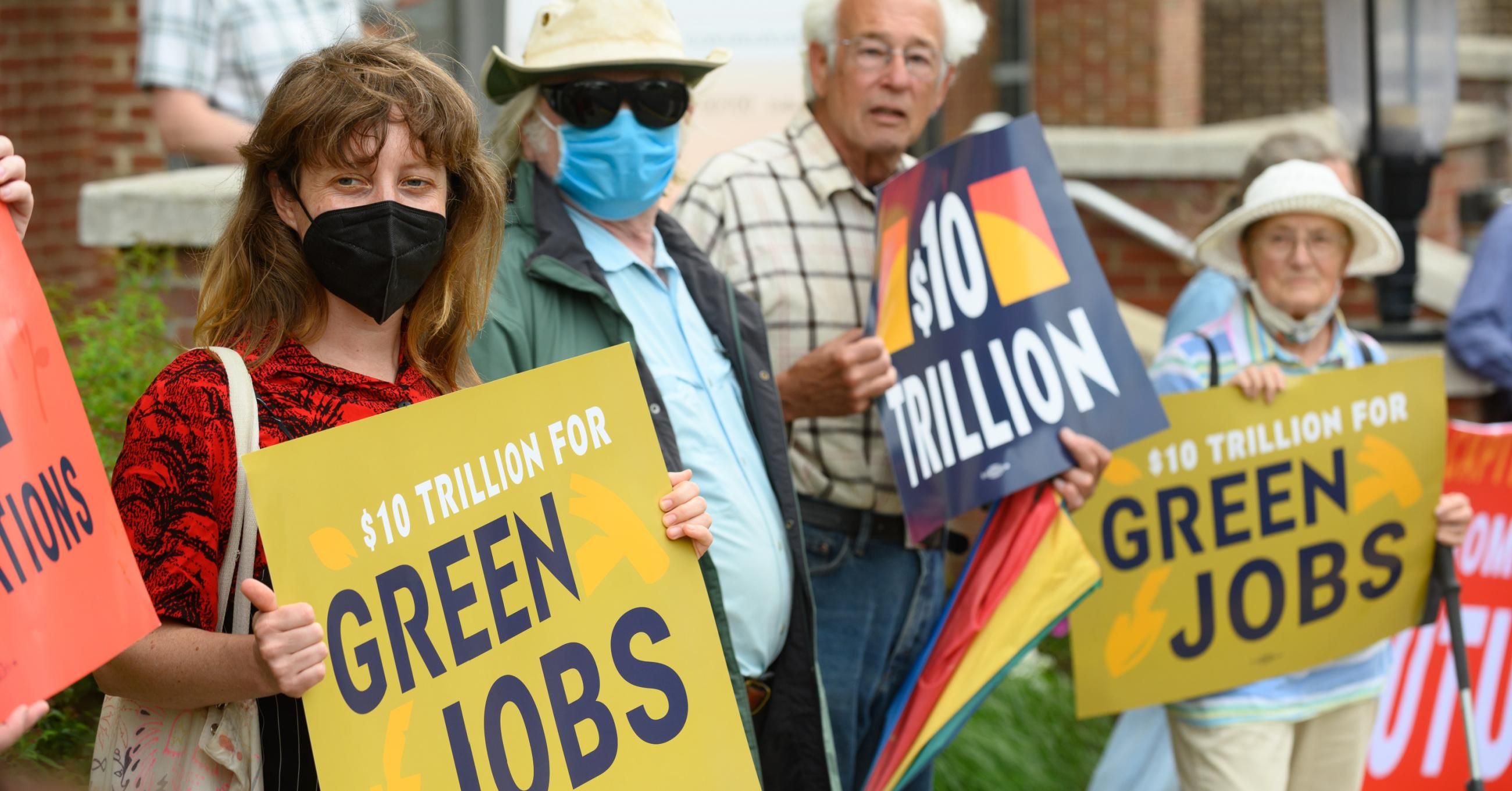 As the U.S. Senate voted Tuesday to approve a $1 trillion bipartisan infrastructure bill, progressive lawmakers and advocacy groups denounced the measure for funding "false" solutions to the climate emergency, while underscoring what they say is the critical need for a filibuster-proof reconciliation package that centers human needs, including bold climate action.
"Instead of facing the climate crisis, the Senate has chosen to invest billions into propping up the fossil fuel industry."
—Natalie Mebane, 350.org
The Senate voted 69-30—with 19 Republicans joining their Democratic colleagues—in favor of the 2,700-page Infrastructure Investment and Jobs Act (pdf), a move that Senate Majority Leader Chuck Schumer (D-N.Y.) called an "overdue step to revitalize America's infrastructure and give our workers, our businesses, our economy the tools to succeed in the 21st century."
However, noting Monday's publication of an Intergovernmental Panel on Climate Change (IPCC) report whose findings United Nations Secretary-General António Guterres called "a code red for humanity," Rep. Jamaal Bowman (D-N.Y.) said in a statement that the infrastructure bill does not adequately fund measures to address the climate emergency.
"Not even close," he said. "Though it includes important investments in hard infrastructure like our roads and bridges, it vastly underfunds public transit, [electrical vehicle], and grid infrastructure."
"This is personal to my district—where public transit underserves Black and brown neighborhoods and where fossil fuel infrastructure like the Cross Bronx Expressway cuts through communities and lowers quality of life, including leading to higher asthma rates among children," Bowman added.
Echoing many of Bowman's concerns, the Congressional Progressive Caucus (CPC) tweeted that "Congress must invest in infrastructure that takes on the climate crisis and meets the needs of working families," and that "CPC members won't support a bipartisan bill without a bold reconciliation bill to advance our priorities."
To that end, Sen. Bernie Sanders (I-Vt.) joined Schumer Monday in introducing a $3.5 trillion budget resolution that would fund a Civilian Climate Corps; expand Medicare and the Child Tax Credit; invest in affordable housing; and provide a pathway to citizenship for millions of undocumented immigrants, as well as paid family and medical leave, tuition-free community college, and universal pre-K for three- and four-year-olds.
CPC members on Tuesday sent Schumer and House Speaker Nancy Pelosi (D-Calif.) a letter asking them to ensure that lawmakers first adopt "a robust reconciliation package" that "reflects our shared and long-standing investment priorities."
Mitch Jones, policy director of Food & Water Watch, told Bloomberg that "this infrastructure proposal is not a down payment on real climate action. It is doubling down on support for climate polluters."
As Bloomberg senior climate reporter Leslie Kaufman wrote:
Many of the bill's provisions are on the oil industry's wish list. The proposed legislation has more than $10 billion for carbon capture, transport, and storage, along with $8 billion for hydrogen—with no stipulation that the energy used to produce it comes from clean sources. A new liquid natural gas plant in Alaska won billions in loan guarantees, while other waivers in the bill will weaken environmental reviews of new construction projects, climate groups say.
In a statement, 350.org policy director Natalie Mebane said that "today, our Senate missed a major opportunity to invest in vital climate resilient infrastructure. Instead of facing the climate crisis, the Senate has chosen to invest billions into propping up the fossil fuel industry."
"While they could have led the way to a clean energy future, they chose to pour billions into the false promise of carbon capture and storage," Mebane said of the senators, "further locking us into decades of new fossil fuel infrastructure which will ensure planetary and community devastation."
"The Senate should invest billions more to improve our mass transit, increase spending to electrify school and public buses, and invest more in electric vehicle infrastructure," Mebane added. "We need to build and improve infrastructure that will ensure a livable future and climate-resilient communities."

This content originally appeared on Common Dreams - Breaking News & Views for the Progressive Community and was authored by Brett Wilkins.