Radio Free never takes money from corporate interests, which ensures our publications are in the interest of people, not profits. Radio Free provides free and open-source tools and resources for anyone to use to help better inform their communities. Learn more and get involved at radiofree.org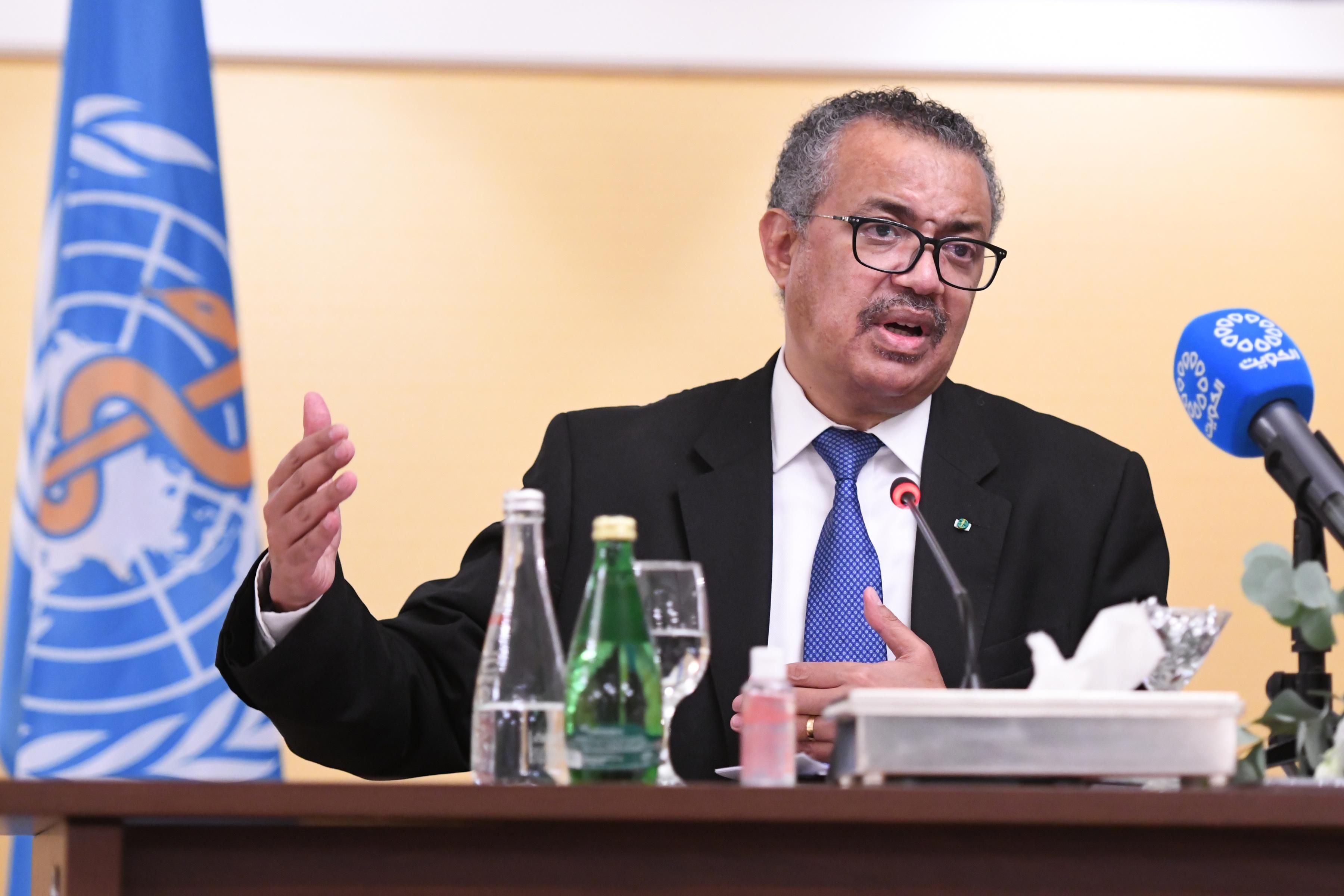 The head of the World Health Organization on Thursday slammed rich nations for rolling out booster shots for certain segments of their populations as billions of people across the globe—particularly in poor countries—have yet to receive a single dose of the coronavirus vaccine amid the Delta surge.
"It's unconscionable that some vaccine-producing companies are reporting record profits, and some countries are offering boosters, while so many people remain unprotected," WHO Director-General Dr. Tedros Adhanom Ghebreyesus wrote in an op-ed for TIME. "To ensure all health workers... in countries like Uganda, and those at most risk of severe Covid-19 disease, are protected, a temporary moratorium on boosters is a necessary and sorely-needed statement of solidarity that would help save the most lives and help end the acute stage of this pandemic everywhere."
"A temporary moratorium on boosters is a necessary and sorely-needed statement of solidarity that would help save the most lives."
—Dr. Tedros Adhanom Ghebreyesus, World Health Organization
The WHO chief's comments came hours before the U.S. Food and Drug Administration expanded emergency use authorizations for the two-dose Pfizer and Moderna vaccines to include approval of an additional shot for some immunocompromised individuals. The U.S., which has dismissed Tedros' call for a temporary moratorium on boosters, is one of roughly a dozen countries either considering or currently moving ahead with booster shots.
Last week, Tedros said rich countries should hold off on administering third doses until at least the end of September and send extra shots to low-income countries, dozens of which have fully inoculated less than 10% of their populations. For months, public health experts have vocally warned that leaving large swaths of the world uninoculated heightens the chances that a vaccine-resistant Covid-19 strain will emerge and spread across the globe.
"To date, 10 countries have administered more than 75% of the world's vaccines, while low-income countries have received just over 1%—nowhere near enough to fully vaccinate their health workers, older populations, and others at highest risk of severe disease and death," Tedros wrote Thursday.
"Despite this searing inequity, some rich countries have announced plans to administer 'booster' doses to populations that have already received a full course of vaccination," Tedros continued. "Not only is this ethically objectionable, when considering the hundreds of millions of people who have not yet received a single dose in the world's poorest countries, the scientific data to support such a major policy intervention, which will have dramatic effects on global vaccine supply, is still being gathered."
In its interim analysis of the science surrounding the potential need for booster shots, the WHO concluded that "to date, the evidence remains limited and inconclusive on any widespread need for booster doses following a primary vaccination series."
"In the context of ongoing global vaccine supply constraints, administration of booster doses will exacerbate inequities by driving up demand and consuming scarce supply while priority populations in some countries, or subnational settings, have not yet received a primary vaccination series," the organization added.
But Germany, France, Britain, the U.S., and other wealthy nations—some of which are blocking a proposed patent waiver aimed at boosting global vaccine supply—have refused to heed the WHO's call for a moratorium and are buying up additional doses to prepare for their booster campaigns, a major profit opportunity for Pfizer and Moderna.
As the London Times reported earlier this week, "Britain has ordered 35 million doses of the Pfizer coronavirus vaccine for next year's autumn booster campaign at a significantly higher cost after the U.S. drugmaker raised prices in response to demand."
In a statement on Wednesday, the U.K.-based advocacy group Global Justice Now noted that Britain's 35 million-dose order would be enough to fully vaccinate the population of Haiti—with millions of doses to spare.
"Not content with profiting £10 billion from their vaccine this year, it's shamefully unsurprising that Pfizer is jacking up its prices for [the U.K.'s National Health Service] in the middle of a pandemic," said Nick Dearden, director of Global Justice Now. "But billions of people remain unvaccinated in countries with health systems that can ill-afford this kind of profiteering."
"Once again, low and middle-income countries will be sent to the back of the queue while the U.K. splashes out on overpriced booster jabs," Dearden continued. "The 35 million doses we have ordered for 2022 could provide two doses for everyone in a country like Haiti, where just 340 people are currently vaccinated."

This content originally appeared on Common Dreams - Breaking News & Views for the Progressive Community and was authored by Jake Johnson.