Radio Free never takes money from corporate interests, which ensures our publications are in the interest of people, not profits. Radio Free provides free and open-source tools and resources for anyone to use to help better inform their communities. Learn more and get involved at radiofree.org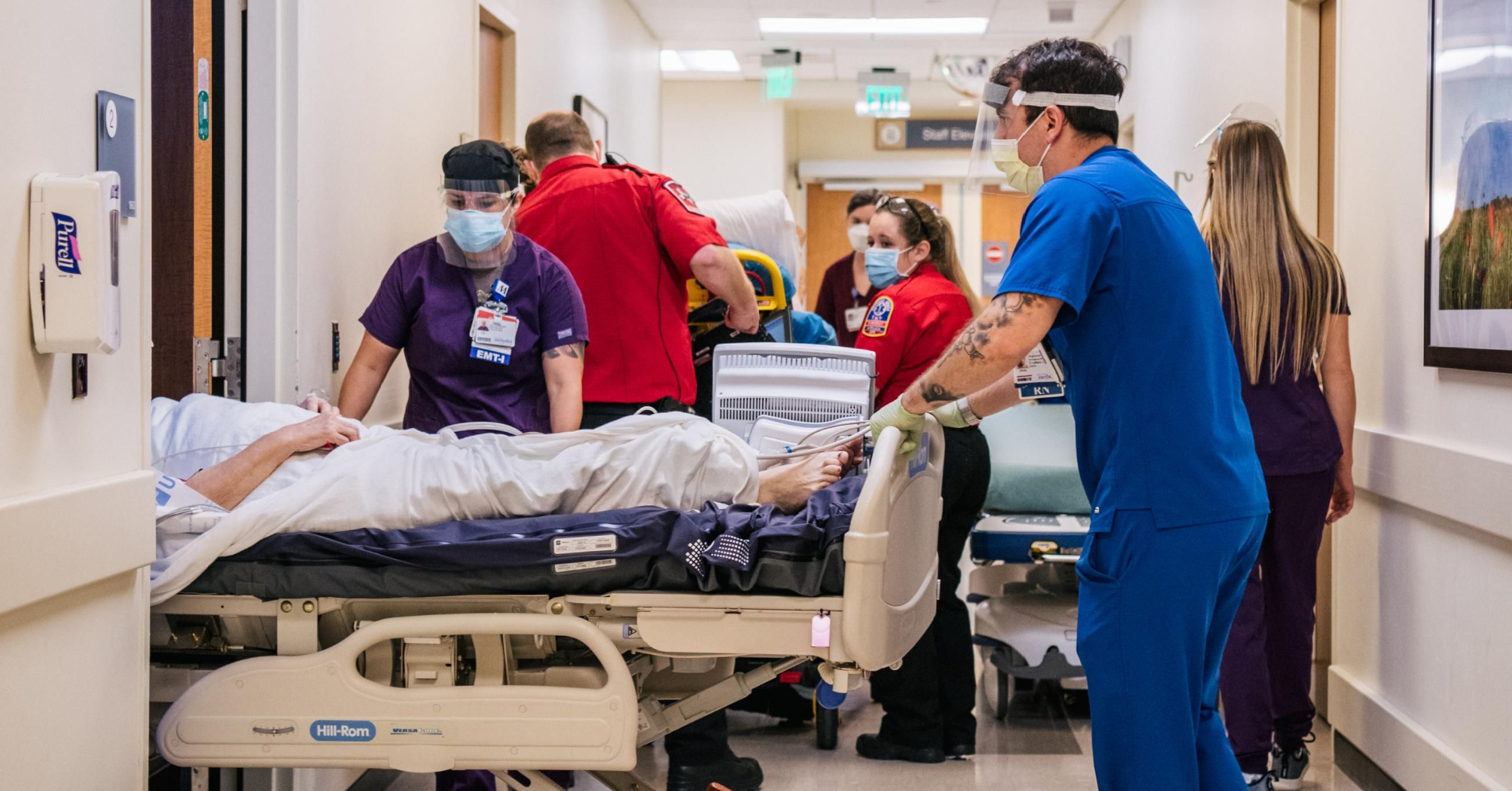 Public health experts in Alabama warned Wednesday that the state's intensive care unit bed shortage—largely the result of unvaccinated Covid-19 patients filling facilities to capacity—is likely to worsen, with one leading infectious disease specialist warning of "potentially apocalyptic" consequences ahead.
"We've never been here before. We are truly now in uncharted territory in terms of our ICU bed capacity."
—Dr. Don Williamson, Alabama Hospital Association
As in many states, Covid-19 infections are surging in Alabama, driven largely by the ultra-contagious Delta variant and vaccine hesitancy among one of the nation's most conservative populations. With more than 4,000 daily coronavirus infections reported and over 2,700 people now hospitalized with Covid-19, the state's intensive care units have reached negative capacity.
Alabama Hospital Association president Dr. Don Williamson told WSFA that "there were 1,568 patients today who need ICU beds, and there are only 1,557 designated ICU beds in the state today."
"We've never been here before," said Williamson. "We are truly now in uncharted territory in terms of our ICU bed capacity."
Dr. Jeanne Marrazzo, an infectious disease specialist at the University of Alabama, told CNN Thursday that there are "patients who qualify for entry or admission into the ICU, but simply can't be accommodated."
"So where do those patients go? Unfortunately, they stay in the emergency room," said Marrazzo. "They may even stay on the regular floor, where you're already stretched for capacity to take care of these people because so many of our staff are out with Covid."
Marrazzo warned of "a domino effect that then clogs up our ERs, clogs up everything else," so that it is increasingly difficult to "accommodate people coming in... not just for Covid, but for all the usual things people use the [emergency department] for."
The doctor called the situation "frankly untenable" and, "given the infrastructure, the resources, and really importantly, the staff" on hand, "potentially apocalyptic."
"I do not use that word lightly," she said.
In addition to Alabama, more than 90% of ICU beds are also occupied in Florida, Georgia, Mississippi, and Texas, according to CNN. Other states including Arkansas, Idaho, Georgia, and Louisiana also report severe strain on hospital capacity and staff.
Experts say it is no coincidence that the states in or near crisis mode are those with among the nation's lowest vaccination rates. Noting that only 12% of people hospitalized with Covid-19 in Alabama are fully vaccinated, Williamson said that "this could have been prevented had we gotten vaccination numbers to higher levels."
"We continue to see a rise in cases... concentrated in communities with lower vaccination rates. So this remains a pandemic of the unvaccinated."
—Jeff Zients, White House
According to Johns Hopkins University's Coronavirus Resource Center, the 10 states with the lowest vaccination rates are, in order: Alabama, Mississippi, Wyoming, Idaho, Louisiana, Arkansas, West Virginia, Georgia, Tennessee, and North Dakota.
In those states, the Covid-19 hospitalization rate is nearly four times higher and the death rate more than 5.5 times greater than in the 10 states with the most vaccinations per capita, according to CNN's analysis of government data.
In Alabama, under 36% of eligible residents are fully vaccinated, compared with nearly 70% in Vermont, the state with the highest vaccination—and lowest hospitalization—rate.
"We continue to see a rise in cases driven by the more transmissible Delta variant with cases concentrated in communities with lower vaccination rates," White House coronavirus response coordinator Jeff Zients said at a Wednesday virtual press briefing. "So this remains a pandemic of the unvaccinated."
Speaking at the same briefing, U.S. Centers for Disease Control and Prevention Director Dr. Rochelle Walensky said although the country is currently averaging around 500 daily Covid-19 fatalities, such deaths are "largely preventable."
"In areas with low vaccination coverage, we continue to hear far too many heartbreaking stories of people who did not get vaccinated, only then to get severe Covid-19," said Walensky. "In these areas, the data are showing us that the more people who are in the hospital, and tragically, more people are dying of Covid-19."
Back in Alabama, one Mobile family care physician has drawn praise—and controversy—for refusing to accept unvaccinated Covid-19 patients.
"If they asked why, I told them Covid is a miserable way to die and I can't watch them die like that," Dr. Jason Valentine said, according to AL.com.
"We do not yet have any great treatments for severe disease, but we do have great prevention with vaccines," he continued. "Unfortunately, many have declined to take the vaccine, and some end up severely ill or dead. I cannot and will not force anyone to take the vaccine, but I also cannot continue to watch my patients suffer and die from an eminently preventable disease."

This content originally appeared on Common Dreams - Breaking News & Views for the Progressive Community and was authored by Brett Wilkins.