Radio Free never takes money from corporate interests, which ensures our publications are in the interest of people, not profits. Radio Free provides free and open-source tools and resources for anyone to use to help better inform their communities. Learn more and get involved at radiofree.org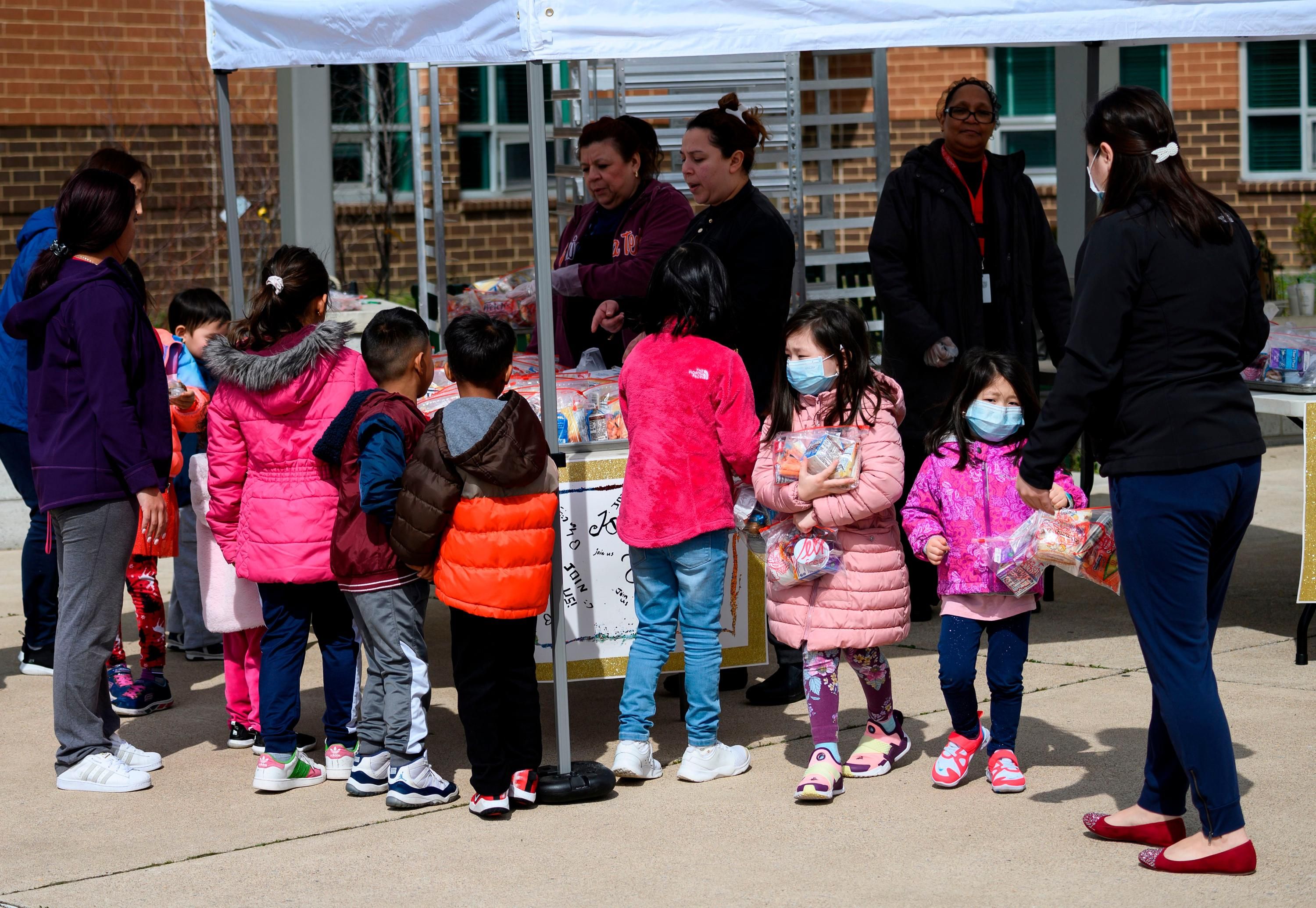 Federal free school meal waivers that would cost just $11 billion to extend for another year are set to lapse at the end of the month due to GOP obstruction as the Senate simultaneously advances—on a bipartisan basis—an $857 billion military budget, a $45 billion increase over President Joe Biden's latest request.
"Universal school lunches have been a lifeline for families, especially as corporations price-gouge at the grocery store."
Anti-hunger activists have been warning for months that allowing the nutrition waivers to expire on June 30 would be disastrous for millions of children across the U.S., particularly during the summer months when vulnerable kids' access to meals becomes even more tenuous.
"Universal school lunches have been a lifeline for families, especially as corporations price-gouge at the grocery store," Rep. Katie Porter (D-Calif.) said Monday. "I'm leading the charge in Congress to extend this vital program."
But while Porter and some of her colleagues demand last-minute action from congressional leaders, there appears to be little momentum on Capitol Hill to extend the waivers, which were first put in place in the early stages of the coronavirus crisis.
Throughout the pandemic and the resulting economic tumult, the waivers have empowered the U.S. Department of Agriculture (USDA) to lift onerous regulatory obstacles to free and universal school meals such as income-based eligibility requirements, giving public schools across the country the flexibility and funding needed to provide food to tens of millions of students.
According to a recent USDA report, 90% of school nutrition agencies across the country have made use of the waiver program to provide free meals to students.
Yet "instead of clearing an extremely low bar and extending the food program another year," progressive commentator and activist Jordan Uhl wrote over the weekend, "Congress is poised to let it expire at the end of this month—June 30—after extending it multiple times."
"Top Republicans in the Senate objected to its extension this time around, using hollow concerns about the program's cost as an excuse," Uhl noted. "Yet, on Thursday, the Senate Armed Services Committee approved an additional $45 billion to be tacked onto President Joe Biden's military budget request—around $813 billion—made earlier this year. This creates a new national 'defense' topline in the Senate of $857 billion. The vote in the Democrat-controlled committee was 23-3."
In March, Senate Minority Leader Mitch McConnell (R-Ky.) reportedly blocked efforts to include an extension of the school meal waivers in an omnibus spending bill, criticizing the cost of the anti-hunger program.
That same month, McConnell condemned as inadequate Biden's request for a record $813 billion in military spending for Fiscal Year 2023—even though it would represent a $31 billion increase over current levels.
"This prioritization of the military, war, destruction, and mass death over helping feed our friends and neighbors—in this instance, we're talking about children—ultimately reflects both an indifference toward working families in the United States and their material needs not being met as well as an unwavering loyalty to the military-industrial complex and its profiteering," Uhl wrote Sunday. "There is always money backed by bipartisan support to fund militaristic endeavors, but when social safety net programs are up for debate, it's suddenly time to worry about the deficit."
In a letter to McConnell and Senate Majority Leader Chuck Schumer (D-N.Y.) last week, a group of Democratic senators and Sen. Bernie Sanders (I-Vt.) warned that failure to salvage the waivers could intensify the nation's child hunger crisis, a longstanding problem that has gotten even worse in the months since Sen. Joe Manchin (D-W.Va.) tanked a proposed extension of the boosted child tax credit.
"The pandemic has highlighted the importance of the child nutrition programs and the role they play in keeping hunger at bay for millions of children across the country," the lawmakers wrote. "As schools close for summer across the country, families will soon lose access to free school meals."
The national No Kid Hungry campaign warned in a report published last week that expiration of the waivers would mean meal "site closures, more red tape, and strong restrictions about where and when kids can eat."
"This means kids could miss out on as many as 95 million meals this summer," the campaign said.

This content originally appeared on Common Dreams - Breaking News & Views for the Progressive Community and was authored by Jake Johnson.