Radio Free never takes money from corporate interests, which ensures our publications are in the interest of people, not profits. Radio Free provides free and open-source tools and resources for anyone to use to help better inform their communities. Learn more and get involved at radiofree.org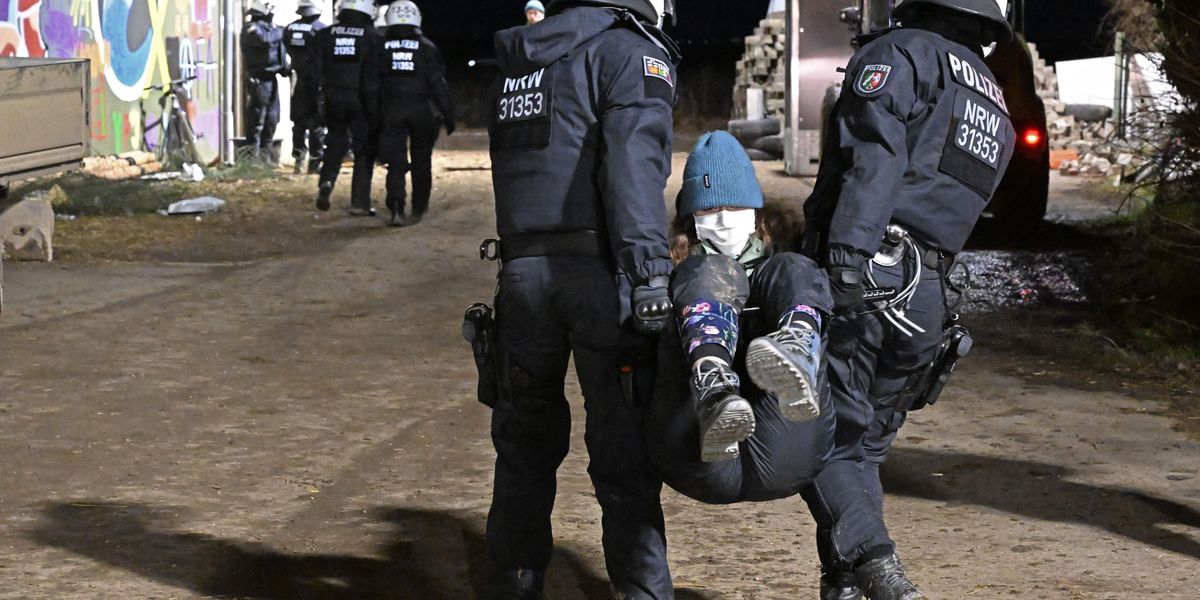 As German police began forcibly removing hundreds of climate protesters occupying a depopulated village slated for future coal mining, more than 700 scientists and celebrities on Wednesday urged authorities to enact a moratorium on evictions from the hamlet.
For days, police have been systematically removing some of the roughly 700 activists camped in Lützerath, located between Aachen and Düsseldorf, in the western state of North Rhine-Westphalia. The police operation accelerated Wednesday after a court affirmed earlier in the week that an order to clear the hamlet is "presumably valid," German state broadcaster Deutsche Wellereports.
Essen-based energy giant RWE—once dubbed "Europe's most climate-threatening company"—is planning to bulldoze Lützerath so the company can extract lignite, a type of soft, brown coal.
The protesters—who come from groups including Last Generation and the youth-led Fridays for Future—occupied Lützerath's buildings, and have erected barricades and built tree houses nearly 20 feet above ground in order to thwart their removal. The Guardianreports some of the protesters—who are overwhelmingly nonviolent—have thrown bottles, rocks, and fireworks at police, whose aggressive removal tactics have been recorded on video and shared widely on social media.

Aachen Police Chief Dirk Weinspach said that although he believes in the protesters' cause and understands "the consequences if we fail to adhere to the internationally agreed goal of 1.5°C" of warming under the Paris agreement, it would "amount to the beginnings of despotic rule" if authorities selectively enforced laws and regulations.
Weinspach is a member of the Greens party, which is part of ruling coalitions at both the federal and state level. The party has come under fire for supporting coal mining in order to tackle the energy crisis caused in large part by Russia's invasion of Ukraine.
Janine Wissler, a federal lawmaker and co-leader of the opposition Left party, joined the Lützerach protest camp and blasted RWE's planned lignite operation as "madness" and a "frontal attack on climate protection."
"If we want to achieve our climate targets and take the Paris climate agreement seriously, then the coal beneath Lützerath needs to stay in the ground," Wissler told the Associated Press in the village.
"We're already experiencing droughts, famines, and floods," she added. "Climate change is happening already. And therefore wrong decisions need to be corrected."

Over 500 members of Scientists for Future—a group started by German, Swiss, and Austrian researchers who support Fridays for Future—opposed the evictions in a Wednesday letter to North Rhine-Westphalia state leaders.
"As scientists, we see it as our duty to point out the consequences of an evacuation from Lützerath," the letter states. "We raise the question of the societal cost of forced eviction. What effect does the eviction have in terms of the credibility of German climate policy? Lützerath has become a symbol. It is about a meaningful sign of the necessary departure from the fossil age."
The letter continues:
There is substantial scientific doubt about the urgent need for an evacuation. Several scientific reports come to the conclusion that lignite mining under Lützerath is not necessary for supply security and grid stability, but rather is politically determined.

The extraction and generation of electricity from this coal is contrary to an energy policy based on the Paris climate agreement and the European climate law... The transition path to renewable energies should therefore be based in particular on a German and European CO2 budget that is in line with the Paris climate goals and is ethically justifiable.
"We recommend a moratorium on evictions," the scientists wrote. "This offers the opportunity for a transparent dialogue process with all those affected to develop sustainable paths of social transformation and time to review the underlying decision-making premises."
"The credibility of German climate policy would be significantly strengthened," they added, "internationally and especially among the younger generation."
Around 200 German celebrities also sent a letter to North Rhine-Westphalia leaders arguing that coal mining in Lützerath is "not just a question of the existence of a village, but a cause that is of global and climate policy trend-setting importance."
"Lützerath can become a moment of the future, of climate policy awakening and democracy—or a devastating signal if corporate profits are placed above the protection of the common good," the celebrities' letter asserts.
On Wednesday, Fridays for Future founder Greta Thunberg tweeted that she would join the Lützerath protest camp "to defend the village and stop the coal mine," and "to protect life and put people over profit!"


This content originally appeared on Common Dreams and was authored by Brett Wilkins.