Radio Free never takes money from corporate interests, which ensures our publications are in the interest of people, not profits. Radio Free provides free and open-source tools and resources for anyone to use to help better inform their communities. Learn more and get involved at radiofree.org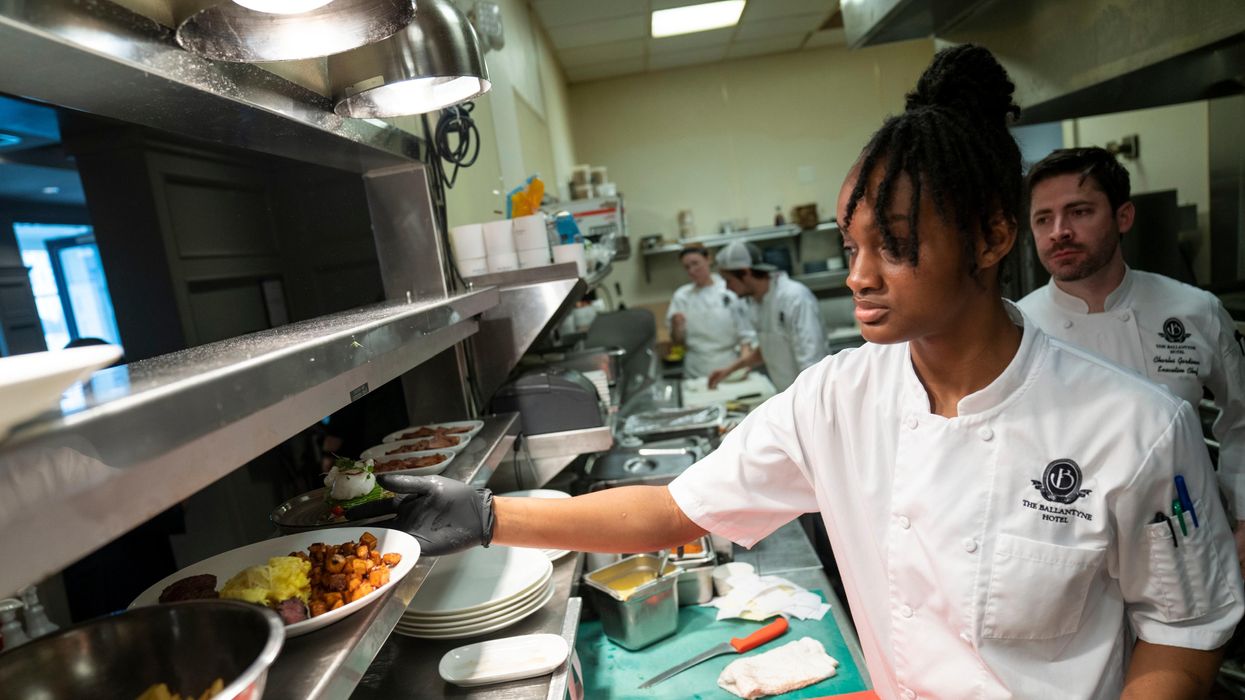 Labor advocates voiced outrage Tuesday in response to a New York Times investigation detailing how the powerful National Restaurant Association uses mandatory food-safety courses—which workers often pay for out of their own pockets—to help finance its campaigns against wage increases.
The Times reported that the restaurant lobby and its affiliates have created "an arrangement with few parallels in Washington, where labor unwittingly helps to pay for management's lobbying."
They did so, according to the newspaper, by taking over a food-safety training business known as ServSafe and pressuring states to "mandate the kind of training they already provided—producing a flood of paying customers."
"The company they are paying, ServSafe, doubles as a fundraising arm of the National Restaurant Association—the largest lobbying group for the food-service industry, claiming to represent more than 500,000 restaurant businesses," the Times noted. "The association has spent decades fighting increases to the minimum wage at the federal and state levels, as well as the subminimum wage paid to tipped workers like waiters."
Saru Jayaraman, the president of One Fair Wage—a national group that advocates for workers earning subminimum wages—said in a statement that "the National Restaurant Association was founded to suppress service workers' wages."
"But this bombshell New York Times investigation exposes something that most people didn't know—the National Restaurant Association is stealing from its low-wage workers in order to fund that anti-worker lobbying," said Jayaraman. "Restaurants like Applebee's and Olive Garden make millions of dollars by paying restaurant workers a federal subminimum wage of just $2.13 an hour. The fact that they fund lobbying efforts to kill laws raising wages by charging workers for food safety training is beyond outrageous."
"It's time politicians stop listening to the owners of major restaurant chains, and start listening to the American people."
Currently, four large states—California, Texas, Illinois, and Florida—require food-handling courses for most restaurant workers. ServSafe dominates the market for offering such classes, providing them for around $15 per worker.
"More than 3.6 million workers have taken this training, providing about $25 million in revenue to the restaurant industry's lobbying arm since 2010. That was more than the National Restaurant Association spent on lobbying in the same period, according to filings with the Internal Revenue Service," the Times reported Tuesday. "The restaurant association notes that some employers have covered the costs of getting certified and that employees are given lower rates in certain circumstances. So not all 3.6 million workers paid $15 each."
Jayaraman called on "any elected official who claims to care about workers" to reject campaign cash from the National Restaurant Association and "return those stolen funds to the workers fighting to raise wages for all Americans."
"Across the country, the American people think wages are too low—and want a raise," Jayaraman added. "It's time politicians stop listening to the owners of major restaurant chains, and start listening to the American people."
The National Restaurant Association spent $2.1 million on lobbying in 2022 alone, according to the watchdog OpenSecrets, and its political action committees donated to the campaign arms of Senate Democrats and Republicans.

The overwhelming majority of the lobbying group's campaign donations flowed to Republican congressional candidates last year, OpenSecrets data shows.

The One Fair Wage campaign is demanding that lawmakers sign a new pledge vowing to reject political donations from the National Restaurant Association, which is currently fighting a Biden administration rule limiting when employers are allowed to pay workers a subminimum wage.

"The National Restaurant Association has taken millions of dollars from low-wage workers and used it, without their knowledge, to fund lobbying activities to fight these same workers' wage increases through their PAC," the One Fair Wage pledge states. "These lobbying activities have resulted in millions of families falling below the poverty line, increasing their reliance on public assistance, costing taxpayers money, and hurting state and local economies."

This content originally appeared on Common Dreams and was authored by Jake Johnson.