Radio Free never takes money from corporate interests, which ensures our publications are in the interest of people, not profits. Radio Free provides free and open-source tools and resources for anyone to use to help better inform their communities. Learn more and get involved at radiofree.org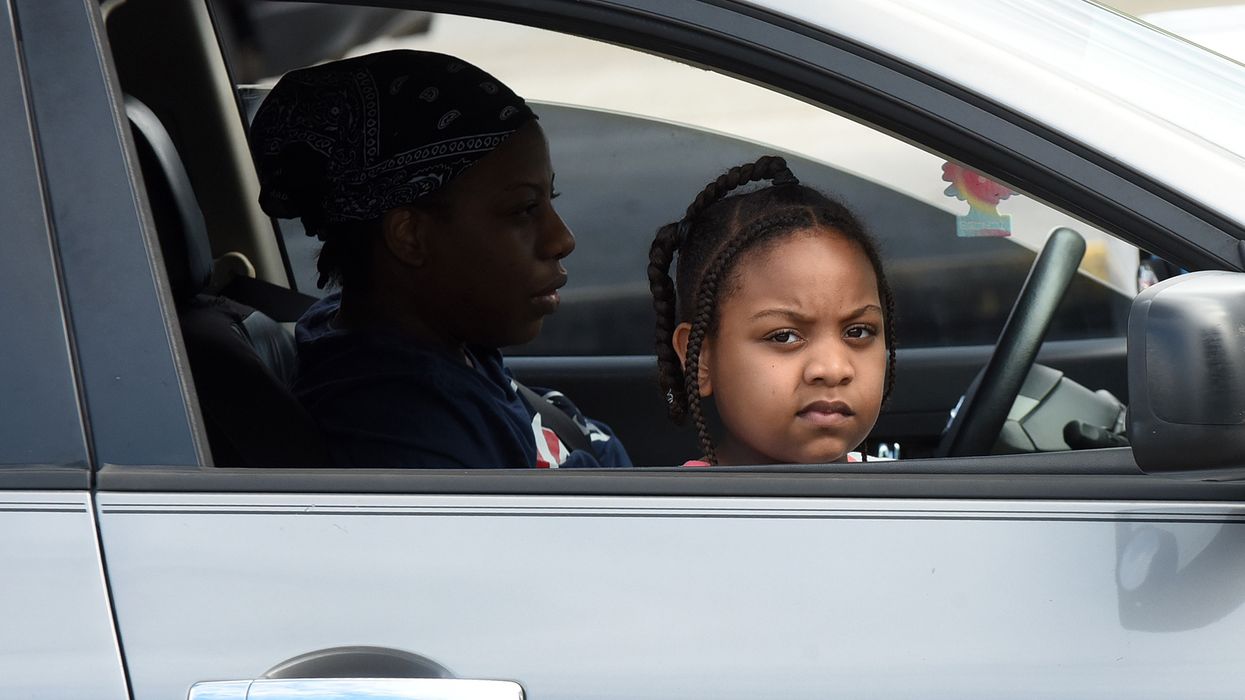 An analysis released Monday estimates that more than 10 million people across the United States—including 4 million children—would be at risk of losing food benefits if the GOP's proposed attacks on federal nutrition assistance become law.
The Center on Budget and Policy Priorities (CBPP) analysis focuses specifically on legislation introduced last week by Rep. Dusty Johnson (R-S.D.), who wants certain recipients of Supplemental Nutrition Assistance Program (SNAP) benefits to face even more strict work requirements than they do under current law.
"Adults aged 18 through 49 without children in their homes can receive benefits for only three months out of every three years, unless they can document they are working or participate in a qualifying work program at least 20 hours a week or prove they are unable to work," note CBPP's Katie Bergh and Dottie Rosenbaum.
If passed, Johnson's bill would raise the age ceiling for the strict work requirements from 49 to 65, a move that Bergh and Rosenbaum argue would endanger food benefits for both the adults specifically targeted by the law and those in their households.
Adults between the ages of 18 and 65 and without disabilities would be subject to the work requirements and benefit time limits "unless they have a child under age 7 in their home," CBPP points out.

Research has demonstrated repeatedly that work requirements do virtually nothing to boost employment, undercutting the GOP's stated rationale for attempting to expand them year after year.

Johnson's legislation would also limit states' ability to temporarily waive SNAP benefit time limits for able-bodied adults, a freedom that has been used to ensure people have consistent access to benefits during economic downturns.

"A total of more than 10 million people, about 1 in 4 SNAP participants, including about 4 million children, live in households that would be at risk of losing food assistance under the Johnson bill, based on our preliminary estimates," Bergh and Rosenbaum write.
People who would face the loss of benefits, according to CBPP, include "some 3 million adults up to age 65, primarily parents or grandparents, who live in households with school-age children." Those millions of children "would see their household's food assistance fall if their parents or other adults in the family aren't able to meet" the Johnson measure's work requirements, the analysis notes.
Additionally, the Johnson bill—which currently has 24 Republican co-sponsors—would potentially strip food benefits from "about 2 million older adults aged 50 to 64 who do not have children in their homes" as well as adults who happen to live in areas with higher levels of unemployment, making it more difficult to find and hold a job.
"A total of more than 10 million people, about 1 in 4 SNAP participants, including about 4 million children, live in households that would be at risk of losing food assistance under the Johnson bill."
While Bergh and Rosenbaum stress that "not everyone newly subject to these requirements would lose benefits," a "very significant number are likely to be impacted because they are out of work, the state failed to screen them for an exemption they should have qualified for, or they were unable to navigate the verification system to prove they are working."
"This is a punitive and ineffective approach," Bergh and Rosenbaum argue. "SNAP is successful at reducing poverty and food insecurity and should be both protected this year from cuts and be strengthened in some areas so that it does more to combat food insecurity and hunger."
Johnson's bill was introduced after pandemic-related SNAP enhancements were allowed to expire earlier this month, hitting millions of people with steep benefit cuts—in some cases hundreds of dollars per month—as food prices remain elevated nationwide.
"I'm just going to have to go back to not eating very much, about a meal a day," Teresa Calderez, a 63-year-old SNAP recipient who saw her benefits drop from $280 a month to $23, told NPR in a recent interview. "Unfortunately, I have known hunger. And it's not a good feeling."
The South Dakota Republican's proposal isn't the only one the House GOP is considering ahead of upcoming negotiations over the farm bill and the debt ceiling.
As CBPP notes:
Budget plans put forward by the Republican Study Committee and by Trump-era Office of Management and Budget Director Russell Vought would also take food assistance away through harmful work requirements while, respectively, instituting a strict block grant (often used to promote large, unspecified cuts) and radically restructuring SNAP by capping program spending.

In addition, the extensive cuts that House Republicans passed in their 2018 farm bill and similar measures the Trump Administration pursued by regulation could offer clues to what may be ahead in the farm bill debate. In 2018, we detailed how such provisions would hurt older people, workers, children, women, people with disabilities, and veterans. The House-passed bill would have caused more than 1 million households with more than 2 million people to lose benefits altogether or have them reduced. Those provisions were soundly rejected on a bipartisan basis in the Senate.
Facing criticism for failing to keep pandemic-related SNAP expansions alive, Democrats in the House and Senate have pledged to oppose any food assistance cuts going forward.
Sen. Debbie Stabenow (D-Mich.), chair of the Senate Agriculture Committee, said during a hearing last week that Congress "must ensure that the farm bill continues to support the nutrition programs that serve as a lifeline to millions of people and families across this country."
"The SNAP program provides food assistance for more than 41 million Americans, including children, seniors, veterans, and people with disabilities," said Stabenow. "Spending on nutrition programs does not rob resources from other farm bill programs, just as crop insurance doesn't rob resources from other programs when disaster strikes and spending goes up."
"But threats we are hearing from some in the House in favor of reckless and indiscriminate mandatory budget cuts will result in cuts to all farm bill programs," the senator added. "We cannot go backward at a time when our farmers and families need us most."

This content originally appeared on Common Dreams and was authored by Jake Johnson.